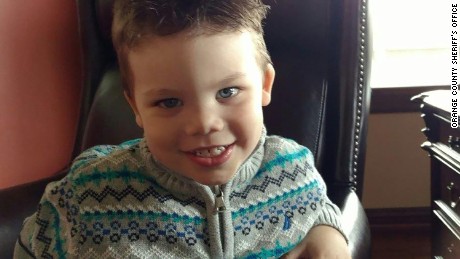 Lake Buena Vista, Florida (CNN)Alligator warning signs will be put up near all the waterways at Walt Disney World resorts following the death of a 2-year-old boy who was dragged into a lagoon two nights ago, a senior source at Disney told CNN on Thursday.
The move will happen as soon as possible, the source said.
Earlier, a spokeswoman for the popular tourist destination in Lake Buena Vista, Florida, said officials were reviewing the placement and wording of warning signs.
"We are conducting a swift and thorough review of all of our processes and protocols," Walt Disney World Resort Vice President Jacquee Wahler said in a statement Thursday. "This includes the number, placement and wording of our signage and warnings."
The Graves family was at a movie night outdoors Tuesday night at the Grand Floridian resort when the boy waded into about a foot of water in Seven Seas Lagoon, authorities have said. Witnesses, including the boy's horrified parents, tried to save him as a gator dragged him underwater, witnesses told authorities.
Search crews combed the water for hours before they found the toddler's body.
There are "No Swimming" signs at the lagoon, but there are no warning signs about alligators.
All the beaches at the resorts at Walt Disney World remain closed.
Some had questioned whether signs specifically warning of alligators should have been placed at the luxury property.
"We have a large property, and from time to time, we have to remove alligators from our property," Wahler said "Nearly one-third of Walt Disney World property is set aside as a conservation area and these areas attract a variety of native wildlife."
Hunt for gator
As a family mourns the death of their son, investigators are trying to pinpoint which alligator attacked him.
The gator responsible might be dead — but authorities aren't sure.
Search teams captured and euthanized at least five alligators as they searched the water for the boy, officials said.
Forensics teams will try to determine whether one of the alligators already taken from the lake is the one that dragged off the boy, officials said. One method will be to compare bite marks to the teeth of the gators.
If not, the search for alligators in the lake will continue.
"We're going to make certain that we have the alligator that was involved, and that we remove it from the lake," Florida Fish and Wildlife Conservation Commission Executive Director Nick Wiley said.
Spokeswoman Tammy Sapp said the investigation was ongoing as of Thursday afternoon.
Disney beaches closed
By midmorning Wednesday, Disney had closed all beaches in its resort area "out of an abundance of caution" after the attack, a Disney representative said.
"Everyone here at the Walt Disney Resort is devastated by this tragic accident," Wahler said in an earlier statement. "Our thoughts are with the family. We are helping the family and doing everything we can to assist law enforcement."
Read more: http://www.cnn.com/2016/06/16/us/alligator-attacks-child-disney-florida/index.html